It's finally time for Lycoris Recoil Episode 9 to provide us the answers we've been waiting for after last week's cliffhanger. What's done is done, the subject of this week's episode focuses on the depressing news Chisato and her friends learned in the wake of Yoshi's relocation last week.
Himegama carried out an odd treatment utilizing Chisato's prosthetic heart in the final scene of the previous episode. This time, the procedure's mystery was eventually solved, along with a number of significant facts regarding Chisato's past. The most important happenings in Lycoris Recoil Episode 9 are detailed below.
Chisato's relationship with the Alan Institute was finally revealed in Lycoris Recoil Episode 9.
The purpose of Lycoris Recoil Episode 8 was to help viewers comprehend the series' backstory better. The objectives of the Alan Institute and their shared past were the topics of an engaging conversation between Majima and Chisato. By dispatching his aide to kidnap and rewire Chisato's heart, Yoshi also made his initial move.
Beginning Lycoris Recoil Episode 9, Himegama was still repairing Chisato's heart. She started the surgery, but Takina arrived just in time to scare her away before she could finish. Takina attempted to wake Chisato up, but he was not at all responsive.
After the introduction, Chisato was seen floating in an unknown liquid before being roused by a doctor and her pals. Chisato and the rest of the Lyco Reco café personnel were informed by Doctor Yamagishi that Himegama had ruined Chisato's battery. Only two months remained on the blonde girl's battery before it ran out and killed her.
The thought of losing her best friend drove Takina to panic, and she made an effort to track Himegama down. Before she could leave the hospital room, Chisato stopped her and told her that she never had much time left. The following day, Chisato was acting as if nothing had happened, despite the fact that Takina was deeply upset and aloof from her.
Chisato and Mizuki continued Lycoris Recoil Episode 9 by traveling to the D.A.'s office. Chisato was requested to attend a meeting by the director herself, which greatly disturbed the young woman. She shot at some troublemakers who were disturbing Mizuki while she was driving, venting her resentment.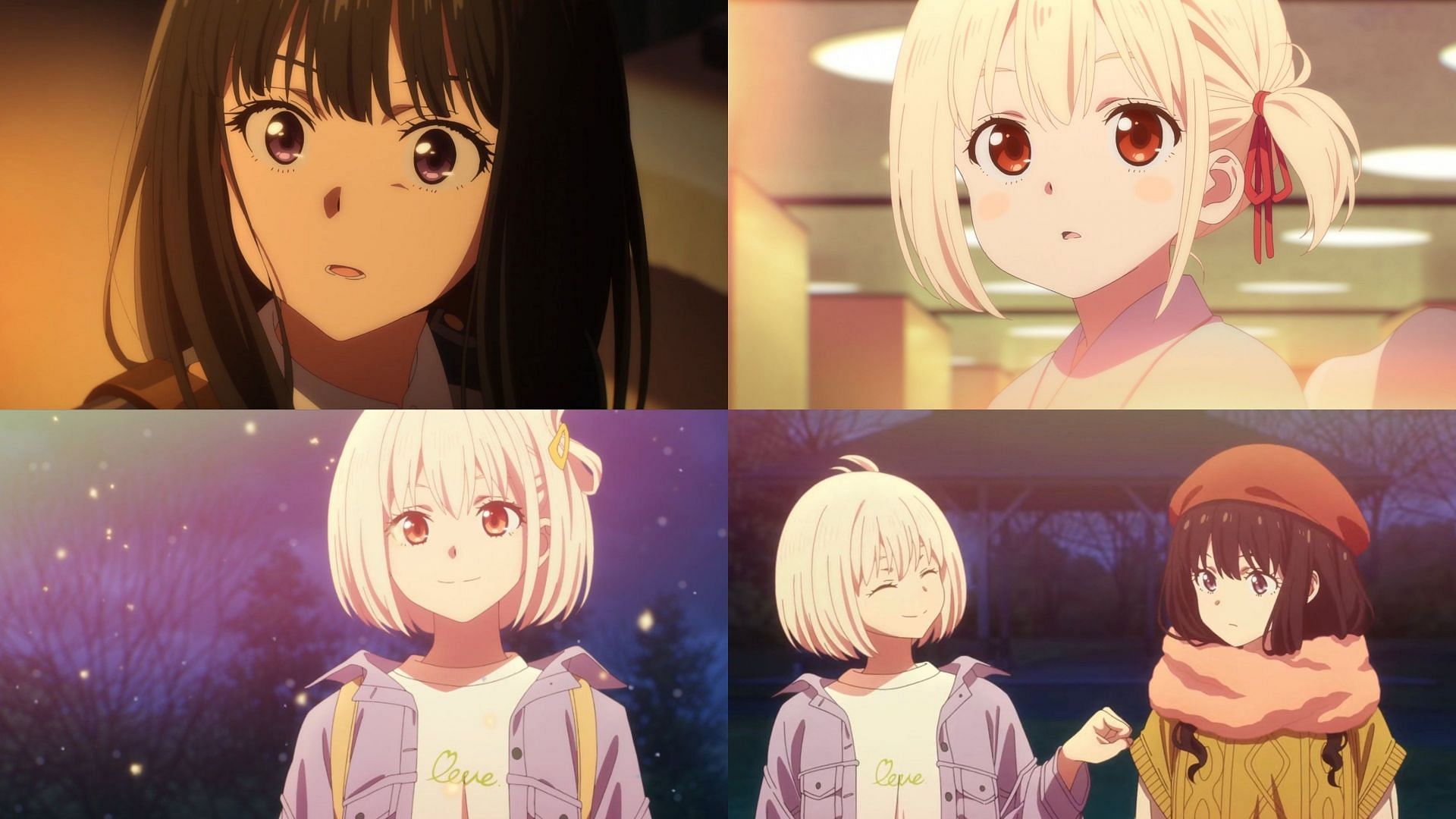 Chisato was given the camera she had previously lost after the director admitted to taking it after she was inside the director's office. They will soon start an attack against Majima, the red-haired woman warned Chisato as she begged him to go back to the D.A. Chisato disregarded the director and declared that she would only think about going back if Takina was permitted to stay.
The following day, Takina received a letter from the director asking her to go back to the D.A. Fuki and Sakura went to Lyco Reco Café to deliver the letter. However, Takina was not pleased with the information, which worried Sakura and Fuki.
Final thoughts.
The ninth episode of Lycoris Recoil was incredibly moving and heartbreaking from beginning to end. Nothing could have prepared them for the context in which they learned about Chisato's past, despite the fact that they had been anticipating it for a while.
Fans, who are praying for Chisato to be saved in any way, share the pain felt by the Lyco Reco café members. Many series fans found it quite difficult to see the scene where the girls say goodbye to one another.
It is nearly a given that the concluding arc of this first season will start in the upcoming episode. Yoshi was just abducted by Majima. Chisato is still oblivious of her friend's efforts to save her while Takina prepares to apprehend the terrorist. After the events of Lycoris Recoil Episode 9, viewers will have to wait another week to find out what will happen to Chisato and the company.
"Always be Updated with us, visit themarketactivity for Real-time Updates"