Are you waiting for Days Anime Season 2? Are you tired of waiting for it?
Well, we all know that feeling when you watch an anime, it instantly becomes your favorite, and soon its first season end, and there is this empty feeling, you still think about the anime and start imagining all the possibilities of how the second season would be like, and if you have read the manga, you still want to see it on the screen.
Days Anime Season 2 is not announced yet, and fans have been wondering, when will it be released.
Many fans loved this sporty anime show and it gained a big number of viewership and it was an award-winning series. So what happens? Why there is no Days Season 2  yet?
Days Anime Season 2 is Cancelled? Anime Updates and release date…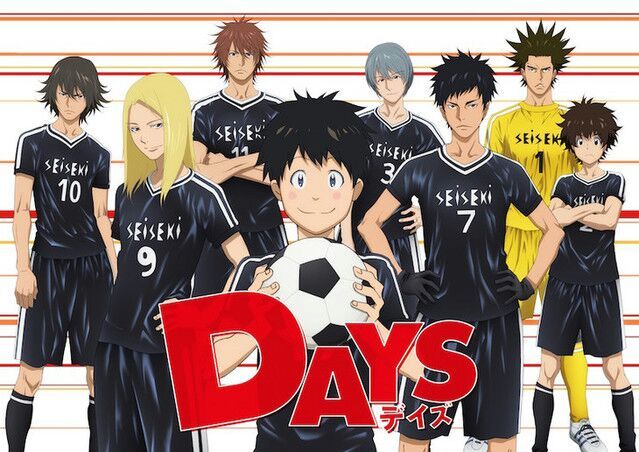 Days is a Japanese sports anime series that was written by Tsuyoshi Yasuda. Its manga started getting published in the magazine, Weekly Shonen Magazine, it came on April 24, 2013, and ended on Jan 20, 2021. It has 42 volumes in it.
After the manga got very popular, it was adapted into an anime television series with 24 episodes+5 OVAs in it. The anime series came on  2 July 2016 and ended on December 18, 2016.
During this, it also received the 40th Kodansha Manga Awards. MAPPA studio did the adaptation of the manga.
PLOT
The story is about a boy named, Tsukushi Tsukamoto, he is a shy, clumsy, and introverted kind of person, who got bullied, due to which he changed his school and start attending Seiseki High School, where his friend was.
Jin Kazama is a senior in high school and he was the reason Tsukushi moved to Seiseki, Jin has well build body and he protected Tsukushi from the bully, he introduced football to Tsukushi, and motivate him to try and join the Seiseki football club.
Tsukushi was a sloppy player but he was a boy full of courage, determination. He work hard and became a member of the Seiseki Football Club.
  WILL WE GET DAYS ANIME SEASON 2?
Days manga is very popular and it finally ended on January 20, 2021. An award-winning manga with such a huge fan following and viewership ratings, the producers cannot ignore this, they might make an anime film but Days Anime Season 2 has a low chance, let's take a look at the reasons.
Many fans believe that in its first season the story was incomplete, So, in 2018, MAPPA Studio decided to make three more episodes in DVDs Form, to give closure to the anime series story. The DVDs were released in March, May, and July that same year. In the previous year, in 2017 MAPPA already released two OVAs of Days Anime Season 1.
This might be the reason for not having Days Anime Season 2. But, there is still a possibility for its new projects like a reboot or an anime film.
DAYS ANIME SEASON 2 TRAILER
There is no announcement of the Days Anime Season 2 trailer, as the series ended in 2016, it's been a long time. The possibility of season 2 is low. But it's new projects can happen, it will take some time. So look forward to that!
DAYS ANIME CHARACTERS
Here are the main characters of the anime days anime season 1.
Tsukushi Tsukamoto:-  A high school student at Seiseki high school, quite clumsy, determined boy, hard worker. His dad died and lives with his paralyzed mom.
Jin Kazama:-  Also a student at Seiseki High School, Good-Looking, great athlete, plays in midfield in the football club.
Kaoru India:- India is a genius football player, have amazing field vision. He is a Sakuragi High School student and their school football team is a rival against Seiseki, both football teams play against each other in the Tokoyo qualifiers.
Shuuji Narukami:- He is also a student at Sakuragi High School, has short height and fragile body, becomes a whole different person while playing football, despite being short Shuuji have amazing skills. Even Tsukushi showed respect to him because of his excellent football ability.
DAYS ANIME EPISODE LIST
Here is the list of episodes of Days Season2:-
EPISODE 1: "WITH JUST THAT, I FEEL LIKE I COULD KEEP ON RUNNING FOREVER"
EPISODE 2:  "I WANT TO BE PART OF THE DREAM"
EPISODE 3:  "PLAYING SOCCER WITH YOU IS SUPER FUN, YOU IDIOT"
EPISODE 4:  "I WANT TO PUT MY LIFE ON THE LINE TO LIVE"
EPISODE 5:   "THAT'S WHY I WILL KEEP ON RUNNING, KAZAMA-KUN"
EPISODE 6:   "RUNNING FOR SOMEONE THAT'S THE KIND OF SOCCER I WANT TO PLAY"
EPISODE 7:  "I WISH I COULD REPAY MY DEBT, IF BUT A LITTLE"
EPISODE 8:  "IF HE GETS INTO IT, HE WILL BECOME A BULLET"
EPISODE 9:  "WE WILL GET THE BALL OVER TO WHERE YOUR VOICE CAN REACH US IN NO TIME"
EPISODE 10:  "I WON'T BE DEFEATED BY SUCH A TINY SETBACK"
EPISODE 11:  "TO CONNECT THESE GLEAMING DAYS TO THE FUTURE"
EPISODE 12:  "I WON'T LET ANYONE BE DISSAPOINTED AGAIN"
EPISODE 13:   "YOU JUST NEED TO LOOK FORWARD"
EPISODE 14:  "GIVE EVERYTHING TO TAKE MY SPOT AWAY FROM ME"
EPISODE 15:  "I'm SURE I CAN'T STAY AT SEISEKI ANYMORE"
EPISODE 16: "THE ENDLESS WAY THAT KEEPS CRASHING IN"
EPISODE 17:  "I LOVE THIS TEAM"
EPISODE 18:  "TELL ME, KAMISHITA: YOU CAN DO IT, RIGHT?"
EPISODE 19:  "COME WITH ME. IT'S A STRAIGHT SHOT TO NATIONALS."
EPISODE 20:  "DON'T UNDERESTIMATE SEISEKI"
EPISODE 21:  "ISN'T SOCCER A BLAST"
EPISODE 22:  "RIGHT NOW, I'm SEISEKI'S CAPTAIN"
EPISODE 23:  "I'M A MEMBER OF SEISEKI'S TEAM, TOO"
EPISODE 24:  "I WANT TO PLAY MORE SOCCER WITH  THIS TEAM"
There are a total of 24 episodes in its first season, each 24 minutes long. These anime series have 5 OVAs, Two of them released in 2017 and the remaining three in, 2018.
You can finish this anime series in just one day!!
DAYS ANIME SEASON 2 WATCH ONLINE
Since we will not be having days anime second season any soon, you can watch Days Anime Season 1, if you haven't watched it yet or you can re-watch it on Crunchyroll,  Days Anime Season 2 on Reddit
DAYS ANIME SEASON 2 FAQS
Q1. Is there Days Anime Season 2?
Ans. There is no announcement of Days Anime Season 2, but maybe in the future, you can see its new projects.
Q2. Does Seiseki beat Touin?
Ans. Yes, Seiseki beat Touin Academy in the Final.
Q3. Is DAYS a romance anime?
Ans. At first, you will think it is a yaoi anime but there is a romance between male and female characters.
Q4. Where can I watch Days anime Season 2?
Ans. You can watch Days Anime Season 2 on Crunchyroll,  IMDB
You can check out our website for more content like this
For more information visit themarketactivity.com