The fifth season of Food wars, produced by J.C. Staff is also the series finale. Initially, it premiered on Tokyo MX on 11th April 2020. Food wars bring back some great and fascinating recipes along with some quite exciting murder mystery drama. But this season might contain some fresh content. So, fans make sure that you don't miss any episodes of this season.
"Food wars, Season 5": Release date
The season 5 premiered on 11th April 2020. But on 17th April 2020, the makers declared that the remaining episodes after the second episode are scheduled for some later date owing to the current pandemic situation.
However, towards the end of May 2020, the makers again decided to start the weekly new episodes from 17th July. Japanese T.V. stations also carried out a rerun of the first two episodes on 3rd July and 10th July respectively.
"Food wars": Storyline
The series has about 80 episodes and 5 OVAs, and the story traces the journey of a young aspiring chef, Soma Yukihira. He aims at becoming a full-time chef at his father's restaurant. But, Joichiro gets a new job, which demands him to travel around the world and he closes his shop. This closure shatters Yukihira's dreams. He receives an enrollment in an elite culinary school, Totsuki Saryo Culinary Institute. In this institute, a food competition occurs every year, called Shokugeki.  The story then traces his adventures as he interacts with his colleagues and challenges Totsuki's students as well as other competitors in shokugeki competitions. He unearths that his father was not only a student of Totsuki but also the second seat in the Council of Ten. This revelation leads to Soma planning on becoming the best at the Academy.
The story then traces his journey and how he struggles to attain fame. Gradually he enters into the second year.  Several of the Fall Classic members get promoted into the council, replacing the third-year graduating batch. Their first assignment involves the mere existence of dark chef. The dark-chefs are those people who work with criminal organizations and other VIPs.
Les Cuisiners Noirs: Revelation
The "Les Cuisiniers Noirs",  led by Joichiro's former protege Asahi Saiba is one of the notorious group.  Asahi infiltrates Totsuki, and abducts Erina from the Academy, with the sole intention of marrying her. To retrieve Erina, Soma, Megumi and Takumi participate in an invitation-only cooking competition called BLUE, organized by the World Gourmet Organization under its Headmaster Mana Nakiri, Erina's mother.
The trio combat against the Dark Chefs and Soma is eventually defeating Asahi. The scene concludes with Soma and Erina facing each other in the final match of BLUE. Erina acknowledges Soma's cooking but unfortunately calls it "disgusting".
After BLUE, Somatakes an indefinite leave before taking the third year exams. During this time Erina and Hisako enquire Joichiro about his past with Tamako. Whereas Mana and Azami unravel that Azami is Asahi's biological father and Erina's half-brother. This revealtion leads the former to request him to join the Nakiri family. Several years later, when Jewel Generation students graduate from Totsuki, Soma tells Erina that he's returning home. He challenges her, and she gladly accepts it. But this time Soma is confident that he will make Erina finally say "delicious".
"Food wars, Season 5": Plot
The Season5 starts with a new dimension of adventure for the Elite Ten. After the intense battle in the 4th season, they immediately get assigned to new competition. In this competition, they need to fight against their final year classmates. This competition takes place on a beach, where the teams need to prepare meals for visitors to the beach. They should reach the benchmark with the sales, according to which their ranking will occur.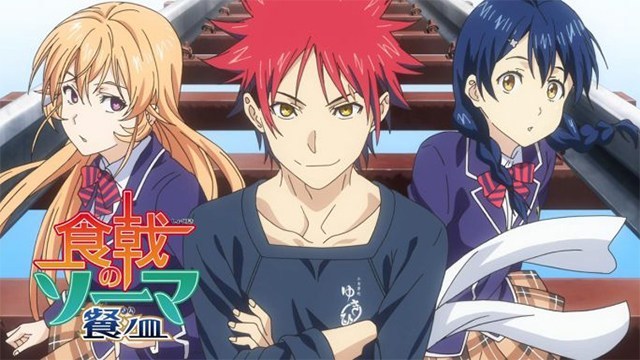 However, with the other teams getting a sophisticated place, the Elite Ten gets a broken-down place. Still, they struggle against all the odds to survive in this competition. Initially, Elite Ten goes through a rough phase. But eventually, everything settles down, and they pick their pace and cook delicious and fragrant dishes. These tactics attract the customers, and within seconds, they have a vast beeline of customers.
"Food wars, Season 5": Cast
The main star cast includes-
"Food wars, Season 5": Official trailer
The official trailer for the 5th season was available on 16th June 2020. With the season 5 episodes available, you can start binging on the English dubbed versions right away. But, before that watch this video for a quick understanding.
https://youtu.be/QNbMDcR7cT0