Into the Breach community is relatively small. For games like Skyrim, we opt for official mod tools or deep access to the game's codes. Despite the smaller amount of modders present, all of them tend to stay active and have managed to revamp the "into the breach" combat style in numerous ways. The community resides in the Discord channel of the game. In the official forum, the modders share their knowledge and the early builds of their current project.
Into the breach mods
The following list consists of all the mods for the into the breach game. The only categories enlisted are the Squads and Miscellaneous. While the miscellaneous consists of enemies, pilots, UI, or GFX. Currently, the Windows 10 Store edition of this game does not support mods.
Squads
Aquamarines
It is a squad of Mechanics that uses Vek's weakness, aka water, to combat him effectively and efficiently. Aquamarine consists of a water launcher, which is also a ranged class weapon.  It launches a projectile that creates a water projectile on a non-Vek spawn tile, which instantly kills the opponent only if it's not massive. Another one is the flood launcher. This mod launches multiple projectiles, which do damage to 5 tiles and turn them into water.
Overwatchers
These over watchers are warriors from some other dimension. They specialize in rapidly closing the distance and dispatching their opponents. You can install this mod by fist downloading the mod loader: https://subsetgames.com/forum/viewtopic … 6&p=117100. Once you installed this, then unpack the archives to the mod directory (<steam>\steamapps\common\Into the Breach\mods). You can watch the video for a better understanding.
Miscellaneous
Time traveler
This time traveler mod recruits a new pilot to the game, aka the Advanced AI. The pilot is primarily a recolor version of the AI unit. This mod initially intended to add more variation to the original pilot selection at the beginning of a run. Whereas, the Advanced AI has one unique feature over-familiar pilot recruits, i.e., it is the first pilot from the "Change Time Traveler" screen for all recruits to start a challenge run. It can make the pilot visible on the "Change Time Traveler" menu, but for that, you will have to click "Mod Options" on the main menu, then select "Arrange Pilots."  This action then forwards to the Advanced AI Unit anywhere within the first 13 pilots. The Advanced AI Unit is only unlocked randomly as one of your two original pilots. The first time you come across this pilot, he will jump out of his mech from excitement for being opened.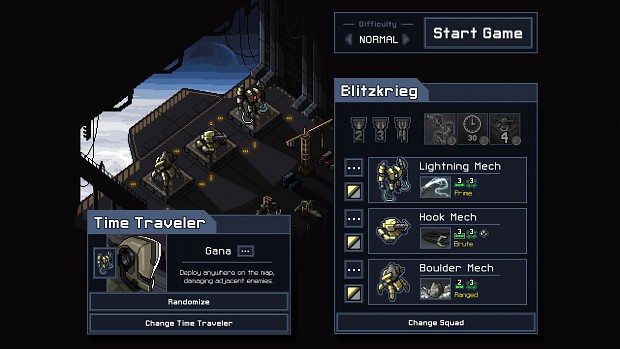 For more updates, stay tuned.
If you liked this content, then please refer to my other articles. Vampire: The Masquerade-Bloodlines 2 Mods