A stealth mode action-packed Samurai game " Ghosts of Tsushima" has gained huge popularity in a short period. Gamers have become too excited to play this game. The developer of this game is Sucker Punch Productions. The open world of "Ghosts of Tsushima" presents gamers with a possibility to explore new weapons, fighting styles, armor, knowledge to combat the Moghul attack.
Gamers can enhance their abilities by exploring differently hidden places throughout the island of "Tsushima". Hot springs boost your health, while Bamboo Strikes provides you an opportunity to enhance your Resolve( a meter which permits you to heal in battle and use powerful special abilities). This game, however, is a single-player game.
After playing "Assasin's Creed", most of the gamers wanted to play a stealth mode game in the mesmerizing locations of Japan. So, the Ghost of Tsushima provides a great alternative to their wishes.
Official trailer: "Ghosts of Tsushima"
This official trailer was up for the gamers on YouTube on 5th March 2020. Since then fans are eagerly waiting for the game's release. Let's have a look at the official trailer...
Release date: "Ghosts of Tsushima"
Good news for the gamers, your wait is now over. This game was released on 17th July 2020. This game is published by Sony Interactive Entertainment for PS4. Critics applauded this game for it's visual and combination, while commented on its open-world design.
Gameplay: "Ghosts of Tsushima"
The game revolves around the Tsushima island in the 13th century. The main lead character is Jin Sakai (Daisuke Tsuji), a famous samurai warrior. Masako, a samurai woman, is his friend and companion. The main villain is the barbaric General Khotun Khan of the Mongol Empire (Patrick Gallagher).
It is a stealth mode game played from a third person's point of view. The game offers an open world. It offers individuals traveling the entire island over a horse. Additionally, For areas difficult to access, a grappling hook is provided. Gamers can go for direct combat using a weapon called 'Katana", which helps to use weapons in a series after targeting a specific enemy. Additionally, in stealth mode, you can go incognito and invade the enemy territory and use weapons such as firecrackers on them to distract them and kunai for striking multiple enemies.
Also Read: http://themarketactivity.com/2020/10/15/youseason-3-joe-has-set-his-new-target-will-he-succeed-in-wooing-her-click-to-know-more-on-plot-release-date-and-cast/
Location: "Ghosts of Tsushima"
Now, let's check out all the locations of the bamboo strike available in Ghosts of Tsushima game, to enhance your resolve and to increase your combating ability.
There are 3 prime locations: Izuhara, Toyotama, and Kamiagata.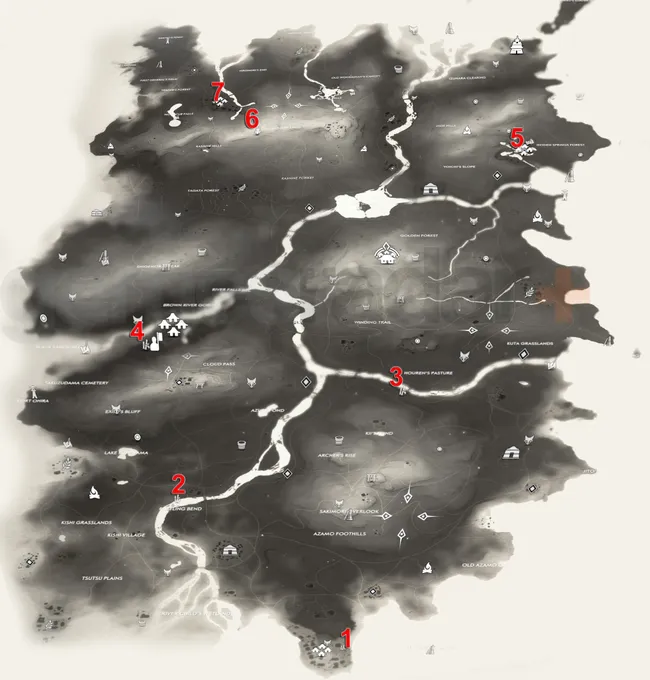 Azamo Bamboo Strike- It is situated in Azamo Bay settlement, near the shrine at the uppermost point of the area on the east of the map marker.
Tsutsu Bamboo Strike- This strike is on the other side of the river from the Rustling Bend name marker, right at the water's edge.
Ariake Bamboo Strike- Towards the south of Houren's Pasture, across the river at the blacked-out settlement, in between a field of Pampas and a building, near a campfire, we can find this bamboo strike.
Komatsu Bamboo Strike- This strike is situated within the Komatsu Forge settlement, adjacent to the Sashimono Banner merchant who trades saddles. It's on the right side, on a cluster of banners, outside of his home.
Hiyoshi Bamboo Strike- Proceed straight to the Hiyoshi Inn settlement and you will find this strike along the winding road with springs either side, with Ishikawa's dojo in the background.
Kashine Bamboo Strike- It is situated adjacent to the White Dye Merchant, at the summit of the left hill from Wanderer's Pass, or south-east from Komoda Town.
Komoda Bamboo Strike- Keep to the main road through liberated Komoda Town and you will find this strike in the shadow of a giant guard tower, just after a gate.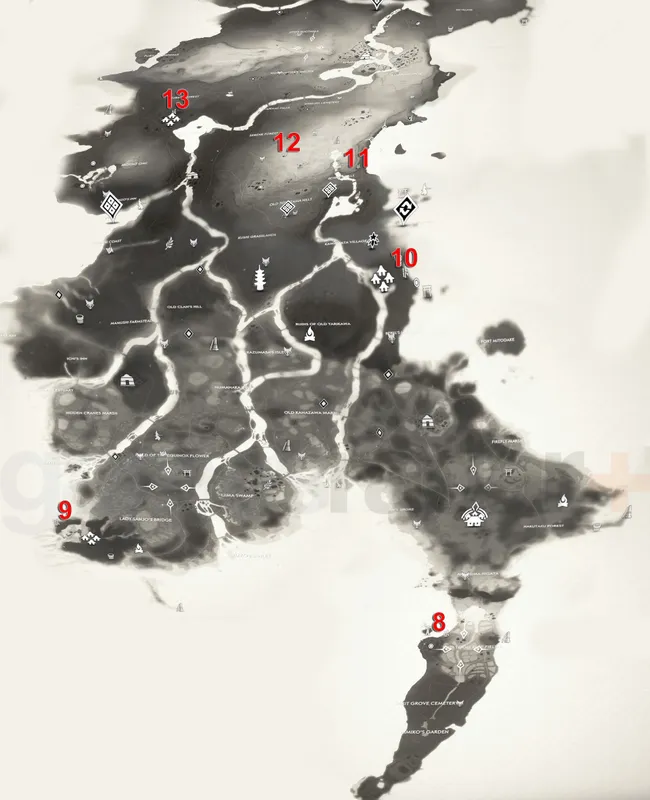 It contains-
8. Akashima Bamboo Strike - Proceed to the west coast from the Old Togo Rice Fields to discover this strike in the shadow of the Akashima Lighthouse.
9. Umugi Bamboo Strike - If on the coast, you proceed towards north-west from Umugi Cove, you can discover this strike.
10. Yarikawa Bamboo Strike - You can find it on the coast towards the east from Yarikawa Stronghold.
11. Kushi Bamboo Strike - This strike is towards the east of Benkei's Falls.
12. Kubara Bamboo Strike - Towards the west of Little Monk's Pond, this strike is present, a hill, on a looming tower on top of a stone mountain.
13. Otsuna Bamboo Strike - Towards the North of Omi Village, around the back of the big central hilltop shrine, within the shrine gates in the back corner.
Kamiagata Bamboo Strikes-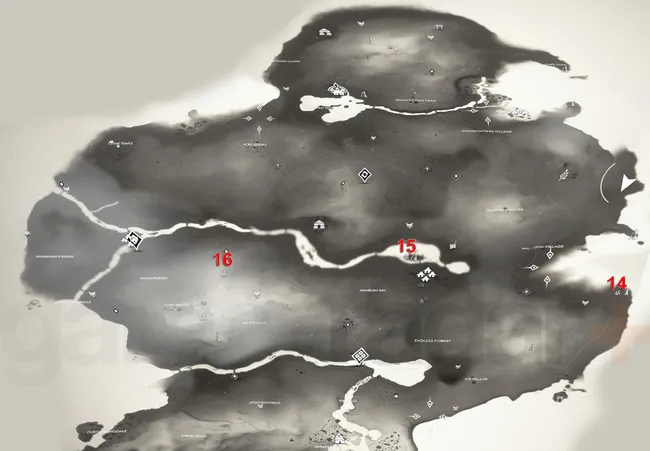 14. Endless Forest Bamboo Strike - If you go directly east from Kin Sanctuary, this strike is on the coast in the shadow of the Kin Lighthouse.
15. Kin Bamboo Strike - The strike is found on the little island of the lake north of Kin Sanctuary.
16. Sago Bamboo Strike - West from Kin Sanctuary, a winding road leads to a guard tower and this final strike.
Now, that you know about all the strikes, what are you waiting for? Go, visit them, and increase your resolve and play this action-packed game. Stay tuned for more updates...