Content creator Daniel 'Keemstar' Keem, who is often known for making controversial remarks, is back again! 
And this time, he rated popular twitch streamer, Kaceytron, a 1 out of 10 on Twitter. Before Kaceytron, he ranked famous streamer, Imane 'Pokimane' Anys, a 2 out of 10. 
However, this is not the end of it. It invited further dramas and controversies. Also, the Keemstar tweet seemed to be befitting as it was a response to Kaceytron's original tweet, which was about After Leafy, it's Keemstar turn to be terminated. 
And in response to this, Keemstar rate this famous twitch streamer. And this is what escalated into an online feud.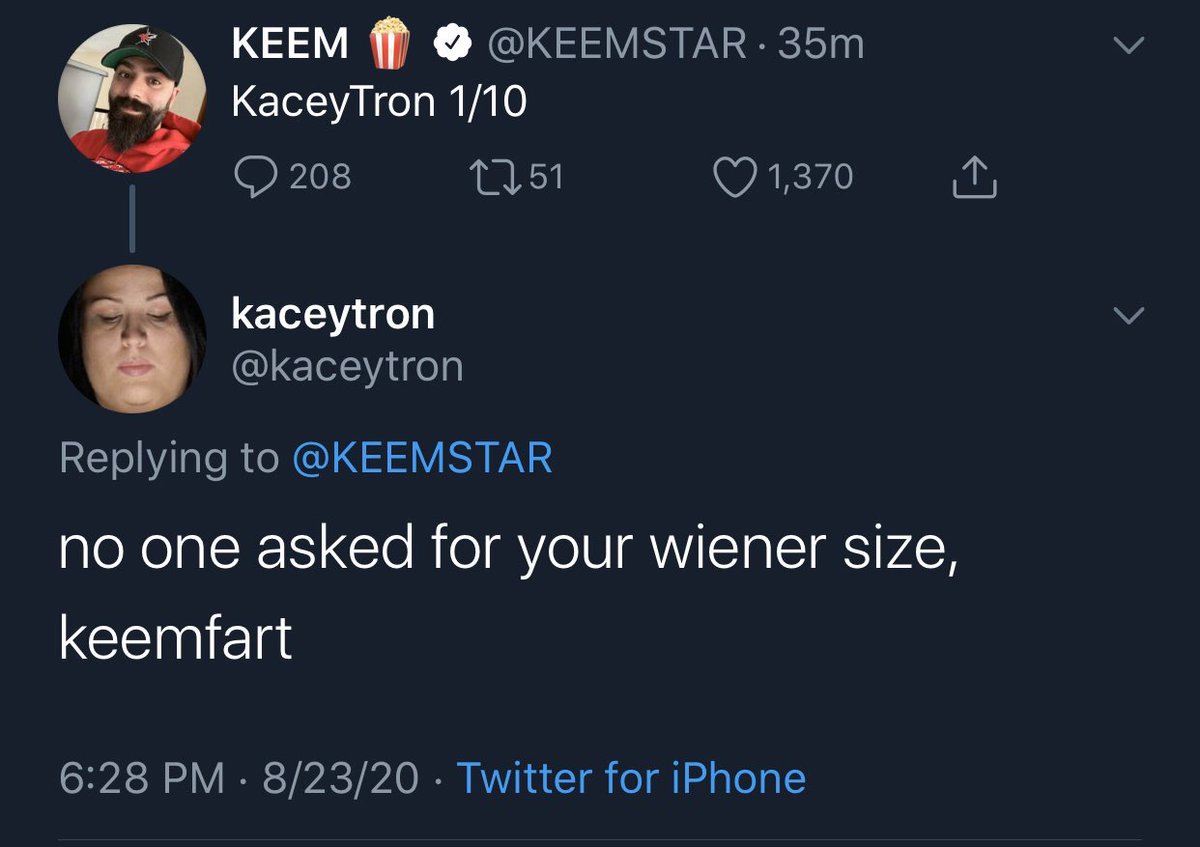 Online Feud between Kaceytron and Keemstar 
Kaceytron is a twitch streamer who was recently banned from Twitch for posting an inappropriate comment related to Coronavirus. On Twitch, she has 514k followers, and on YouTube, she has 70k subscribers. She is often found playing games like Overwatch and League of Legends. 
On the Contrary, Keemstar is a content creator who is known for his disturbing and unrestrained comments. It leads to a Twitter storm many times.
When he ranked Pokimane 2 out of 10, it caused a significant uproar among her fans and the online community at large. 
And now, his recent tweet targeted at Kaceytron did not go down well with her as she responded.   
And after she responded, Keemstar decided to exacerbate their feud. 
Their twitter exchange proceeded till the time Kaceytron tagged twitter support against Keemstar's recent comments. 
Keemstar has now gathered his fans to attack me for how I look… how is this acceptable @Twitter @TwitterSupport … please report this, I have severe esteem issues & I've never claimed to be attractive https://t.co/GIEja5pzBK

— kaceytron (@kaceytron) August 24, 2020
Users start picking up the sides. 
After this online feud went to an extent, the users started picking upsides and reacted to the recent development. 
One of the tweets took the side of Kaceytron and asked her if she is doing okay because nobody deserves this kind of hate. 
Others said that she is 10/10, and twitter needs to take strict actions against Keemstar. 
While some took the side of Keemstar, one tweet says that Alinity and Kaceytron are ending Keem's career. 
Others tweeted that she is one most respected trolls on Twitch. 
With this, there is another biggest online feud going on Twitter. It remains to see how Kaceytron and Keemstar debate ends up playing out over the next few days.
Kaceytron banned on Twitch for a few days. 
Before this dispute happened, Kaceytron banned from using Twitch stream for her inappropriate comments over Coronavirus. On the Rajj Patel show, a twitch reality series, Kaceytron told that she would spread the Coronavirus as much as she could. She even said that the world would be a better place without old and poor people. 
Enjoyed reading my article? Check my other article about Dua Lipa prank on older adults.